About SevenBear Media
Beth Ryan - Freelance Media Specialist
Meet Beth – the face behind SevenBear Media
I'm Beth Ryan, a young freelance media specialist, with a passion to create. Having recently passed my college diploma with a distinction level award, I'm looking to make a name for myself in the world of media.
At heart, I'm a digital artist, who enjoys drawing characters in a cartoon style. The name "SevenBear Media" originates itself from one of my characters – a bear named Seven.
My passion for digital art lead me down the path of media, attending college and learning much more about the industry and widening my ability to a much larger and broader scale.
Now I work in a much larger variety of media, including a long time dream of producing and editing videos, an old but renewed love for photography, a passion for graphic design, and a newly learnt enjoyment for the production of eLearning courses.
---
Achievements in Media
Level 3 Extended Diploma in Creative Media Production and Technology
Level: Distinction
Date: 2018-2020
(More information about the course can be found here)
The Norman Sayle Award for First-Year Overall Body of Work (July 2019, awarded by the Archibald Knox Society)
During my time at the college, I created an award winning childrens book titled "My Brother was sad".
I researched, planned, wrote and illustrated a children's book about mental health, focusing on depression and how it could affect a loved one. The book carefully discusses what could be a very sensitive topic, and helps to explain some of the symptoms and behaviours a depressed person may suffer with, in a tone that does not scare or confuse children.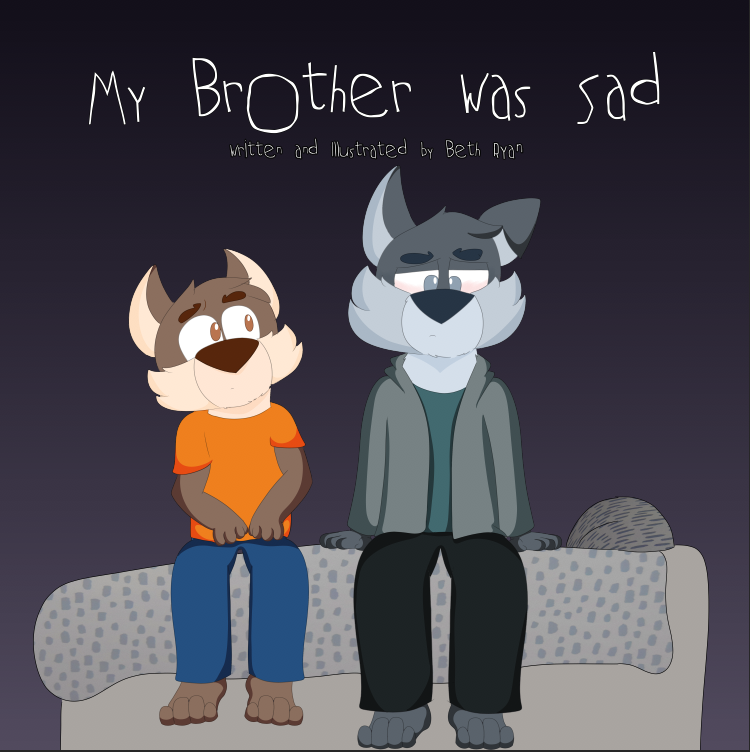 The book was titled "My Brother was Sad", and followed a young wolf character named Finn, and his older brother, Jasper. Finn explains about how his brother grew distant over some time, and in the book, Jasper explains to Finn what was happening, how he felt, and that he's now had help from a doctor and is getting better.
The book closes by explaining that Jaspers depression can not be fully cured, but it can be managed. He explains he may still have bad days where he'll need his time alone, but overall he's feeling much much better.